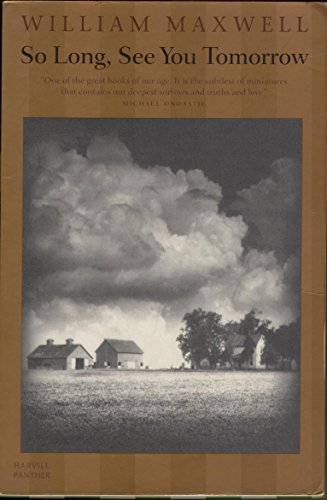 So Long, See You Tomorrow – William Maxwell
Published: The New Yorker (1979) and Panther, Knopf (1980)
My rating: *****
Goodreads Synopsis:
On an Illinois farm in the 1920s, a man is murdered, and in the same moment the tenous friendship between two lonely boys comes to an end. In telling their interconnected stories, American Book Award winner William Maxwell delivers a masterfully restrained and magically evocative meditation on the past.
So I heard about this novel on Backlisted podcast – which, by the way, you should probably start listening to – and had to get a copy.
This is a short novel, only ~130 pages, and yet it feels perfectly judged and concise.  An incredible amount of humanity is contained within this short book.  The author is going over and over what happened many years ago among two neighbouring farm families in rural Illinois.  He was at the time friends with Cletus Smith, whose family was caught up in the murder.  After one evening parting with the titular "So long", and "See you tomorrow", the two do not see each other again until they walk past each other in the hall of a high school in Chicago, a few years later.  The narrator feels guilt about not being there for Cletus and in some way seems haunted by what happened, even though he was not directly involved.
One of the themes of the book is the unreliability of memory.
"What we, or at any rate what I, refer to confidently as memory – meaning a moment, a scene, a fact that has been subjected to a fixative and thereby rescued from oblivion – is really a form of storytelling that goes on continually in the mind and often changes with the telling."
Throughout we are given small indications that what we are being told is stitched together roughly from memories, and in some places, completely made up.
In some ways the structure and style of the story feels like the weaving together of memories.  We know from early on what happened, and variously visit points along the timeline, not necessarily in order, slowly building a picture of events.  The circular style also helps to remind us of how deeply the events affected the author; that he still pores over his memories centuries later.
Another major theme in the book is the loss of childhood.  Early on we learn the narrator's mother died when he was young.
"The idea that kept recurring to me …was that I had inadvertently walked through a door that I shouldn't have gone through and couldn't get back to the place I hadn't meant to leave."
He suffers a profound grief after losing his mother and is further alienated by being distanced from the grief of both his father and brother.  There is also the imagery of walking through a door.  This is linked to the skeleton of a house he and Cletus used to frequent in the evenings.  There, walking through a door was easy, irrelevant almost.  Walking through the door of his mother's death is a much more permanent change.  The author's loss is mirrored in some ways by what Cletus loses.  After the murder and events surrounding it, Cletus' life is changed irrevocably.
"Whether they are part of home or home is a part of them is not a question children are prepared to answer."

[Passage listing various aspects of Cletus life]

"Take all this away and what have you done to him?  In the face of a deprivation so great, what is the use of asking him to go on being the boy he was.  He might as well start life over again as some other boy instead."
This is a truly heartbreaking passage.  The author is examining how lives are constituted by an accrual of the everyday.  But more than that, he is emphasising how all of one's identity, or all a child has ever known, can be stripped away.  This profound loss of home, and childhood identity is what seems to bind him so strongly to Cletus.
Connected to the loss experienced by both the narrator and Cletus, is the wider theme of loneliness.  We see this in almost all of the characters.  Often, it is made to stand out by Maxwell by punctuating a longer series of events or descriptions with a one-sentence paragraph.  One example is when he describes the court proceedings for the divorce of Cletus' parents.  There are details about the questioning, questions raised about the nature of their relationship and the accountability of both.  And then, Maxwell gets you with a punch to the gut:
"Nobody said, in court, that Clarence Smith was pierced to the heart by his wife's failure to love him, and it wouldn't have made any difference if they had."
The insertion of such succinct, astute observations really define this book for me.  Maxwell's writing is so incredibly measured.  It feels as though every sentence has a purpose; every word exact and precise.  In So Long, See You Tomorrow, he manages to fit in more depth of character, more insight into personhood than you will find in almost any book over 400 pages.  This novel is approaching perfect for me.
I cannot recommend this book highly enough.  Have you read any of Maxwell's other work?  I definitely plan to read more soon.  Thanks for reading, I hope you enjoyed.
Happy reading,
Hannah